The Pasty Cam
June 20 - 26, 2004
Saturday, June 26

Ah, the joy of youthful exuberance, discovering the Big Lake on a sunny day.

Shoes, pants and all!
Friday, June 25

A bit churned up and wavy, but still enjoyable... a view of Lake Superior and her coastline.

From the western end of the U.P.
EXTRA!! Friday, June 25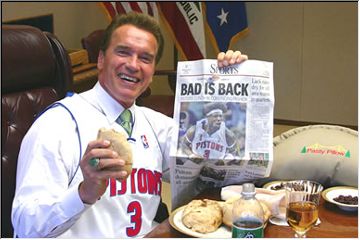 California Governor has Michigan Pasty
Photos and story at Michigan.gov
Thursday, June 24

A critical section of the MDOT bridge interchange project is open, with traffic flowing.

Just in time for the tourist season.
Wednesday, June 23

Layer upon layer, the Keweenaw has been formed, along with it's rich, varied scenery.

A first-hand look at the sandstone stratum.
Tuesday, June 22

In the Pasty Cam archives you'll find a dog named Casey mentioned now and then...

In Eagle River we said goodbye to her last evening.
Monday, June 21

Bridgefest in Houghton over the weekend, with activites for visitors of all ages.

Including some spectacular fireworks!
Sunday, June 20
Happy Father's Day

Father Baraga gets a touch up from Art Chaput (who is also a father) as we honor fathers everywhere on their day.

A Shoebox Memory from Rick Anderson.
| | | |
| --- | --- | --- |
| Visit our sponsors | ...and if you missed the previous week | Visit our sponsors |
Click any picture to tour the
Pasty Cam Archives

Printed on Recycled Internet
Home | Pasty Cam | Contest| Bridge Cam | Order Now | Past-E-Mail | GP Hall of Fame | Making Pasties | Questions

Supporting Still Waters Assisted Living Community, Calumet, MI - © 2004 Pasty Central, LLC