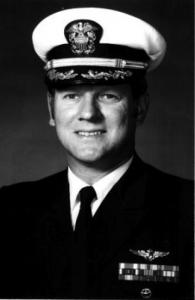 "John K. "Jack" Ready, 70, of Conway, passed away Jan. 15, 2010, at his home.
Jack graduated from Boston University in 1961, earning a B.S. in aeronautical engineering, and then reported for U.S. Navy flight training at Pensacola, Fla.
Until his retirement from the Navy in 1991, he was privileged to have a rewarding career doing what he loved best — flying jet fighter planes. He accumulated 6,800 hours in 87 different types of aircraft, and made more than 1,100 arrested aircraft carrier landings.
Along the way, he served on the USS Enterprise, USS America and USS John F. Kennedy. He graduated from the U.S. Naval Test Pilot School and served as chief project test pilot with the Naval Air Test Center at Patuxent River, Md., where he was later assigned as commanding officer of the Test Center. He also graduated from the Navy Fighter Weapons "Top Gun" School, and later returned to "Top Gun" as commanding officer. After commanding fighter squadrons and air wings, Jack was given command of the fleet oiler, USS Ashtabula. He was later assigned as commanding officer of the aircraft carrier, USS Saratoga.
In 1967, Jack was elected to membership in the Society of Experimental Test Pilots, and in 2003 was elevated to the highest rank of "Fellow," joining the ranks of several astronauts and Chuck Yeager, the first pilot to break the sound barrier, among others.
During his naval career, Jack also earned an MBA from Auburn University.
In 1982, Jack was assigned to the Office of the Chief of Naval Operations at the Pentagon and during a second stint at the Pentagon, was Director, Naval Aviations Plans and Requirements Division. Jack's last assignment with the Navy was Commander, Naval Air Forces Atlantic Fleet, serving in this capacity during the first Gulf War.
Upon retirement from the Navy in 1991 with the rank of vice admiral, Jack joined Lockheed Martin Aeronautics Company. In 1993, he was appointed Director, Navy Programs and, later, he was also appointed Director, Joint Strike Fighter Program, providing liaison for customer-related activity in the Washington, D.C., area.
Jack retired from Lockheed Martin in 2003, but continued to serve as a consultant on the Joint Strike Fighter Program until his death. He moved from Washington, D.C., to Conway, Mich., in 2004. Jack was often asked by local associations to speak to groups about naval aviation and carriers, and he participated in the Friday lecture series at North Central Michigan College. His love of flying continued into retirement and he was a member of a flying club at Harbor Springs Airport. He was an enthusiastic participant in the Young Eagles, a program spearheaded by Harrison Ford whereby local pilots provide free airplane rides to young boys and girls to spark their interest in general aviation. Jack was also involved in Wings of Mercy, a national group of pilots who provide free flights for medical care to those who cannot afford commercial airfare.
Jack is survived by his wife, Mary; children, Jennifer (Kelly) and John (Dorothy); and five grandchildren. He also leaves a brother, Donald (Rose), of North Quincy, Mass.; a sister, Jean Moore, of Centerville, Mass.; and several nieces and nephews.
A local memorial service is planned for a later date. Interment will be at Arlington National Cemetery in Washington, D.C.
In lieu of flowers, the family suggests memorial donations be made to Little Traverse Bay Humane Society, 1300 West Conway Road, Harbor Springs, Mich., 49740, where Jack served on the board of directors."
---

To all who knew him, including the son who followed him into the Navy, Vice Admiral John Kenneth Ready was a fighter pilot's fighter pilot.
"Stinger had ice water in his veins. It was the most incredible and coolest flying I'd ever seen,'' John Monroe "Hawk'' Smith, of Escondido, Calif., a retired Navy captain who flew with Admiral Ready, said in his biography, "Roger Ball!''
"Stinger was an artist,'' Donald E. Auten, the book's author, wrote. "He knew the machine backwards and forwards, knew the operating limitations and emergencies procedures.''
Smith said the admiral acquired the call name "Stinger'' because he could drink the drink of that name standing on his head.
Admiral Ready, who was diagnosed with lung cancer six months ago, died of a heart attack at his home in Conway, Mich., on Jan. 15. He was 70.
Born in Boston, he grew up in North Quincy and had lived in Washington, D.C., before moving to Michigan in 2004.
He retired from the Navy in 1991 after 30 years of service.
Much more than a fighter pilot, Admiral Ready tested an aircraft's ability to land and take off from carriers and trained others to do so. In 1975, he was commander of TOPGUN, the Navy Fighter Weapons School in Miramar, Calif.
In 1989, Admiral Ready assumed command of the Naval Air Force Atlantic Fleet. He was the logistic and administrative commander for all naval air forces assigned to the commander in chief, US Atlantic Fleet, and was responsible for equipping, training, and administering 67,000 officers, enlisted and civilian personnel who maintain more than 1,700 aircraft, nine aircraft carriers, and 14 bases. That was his last command.
John C. Ensh of San Diego, a retired Navy pilot and captain who flew with Admiral Ready, said he "belonged to a very small and exclusive group of naval aviators who fly from aircraft carriers, in that he had made more than 1,100 carrier landings . . . That accomplishment made him a member of the Tailhook Association's 'Grand Club.' ''
"Jack also held a unique distinction of having accumulated more than 6,800 flight hours in 84 different types of aircraft during his career,'' Ensh said. "Very few naval aviators have ever achieved that distinction.''
His flying skills, prowess in aviation tactics, and test pilot expertise earned him a spot among a small cadre of naval aviators who flew captured Soviet Union aircraft in a top secret Department of Defense program to study their flying characteristics and help design tactics to defeat the aircraft in combat, Ensh said.
"The groundwork he did in that program is still being used in designing fighter aircraft tactics today. So, he was one of the pioneers in the field of exploitation of enemy aircraft flying qualities.
Admiral Ready graduated from North Quincy High School in 1956 and from Boston University in 1961 with a bachelor of science degree in aeronautical engineering.
At both schools, he was a hockey player and worked part time. One of his jobs was driving a taxi. "That's the reason I was such a good fighter pilot. I got my initial training driving a cab in Boston,'' he told the Navy Public Affairs Center paper when he retired from the Navy in 1991.
His father and grandfather worked at the Boston Navy Shipyard in Charlestown. His brother, Donald of Quincy, said that while growing up, "all that Jack ever did was doodle airplanes and build models of them. He was a paperboy for the Quincy [Patriot] Ledger, and he made his last stop at the Squantum Naval Air Station, where they did a lot of training during the Korean War, and a lot of the pilots would let him sit in the cockpit of their planes.''
His sister, Jean Moore of Centerville, recalled that he started taking flying lessons at 15, "jumped from a plane with a parachute at 16, and had his pilot's license at 17. Flying was the only thing he ever wanted to do.''
Soon after he got his license, he flew his sister from Massachusetts to a relative's graduation at Annapolis. "You always had a sense of safety when you were with him," she said.
In 1963, Admiral Ready flew one of the planes in formation over the Washington funeral of President John F. Kennedy.
His posture, he confessed to his sister, did not convey his inner conflicts as a younger test pilot. In a 1964 letter from an aircraft carrier to his sister, Admiral Ready revealed that he was not as fearless as people thought in landing planes on aircraft carriers.
"It gets black as black can be at sea during the night,'' he wrote, "and I'm not as petrified as I used to be making a night carrier landing.''
After he graduated from BU, he completed Officer Candidate School and reported for Navy flight training in Pensacola, Fla. In 1966, he graduated from the US Naval Test Pilot School in Patuxent River, Md., and was assigned to a branch that tests the ability of aircraft to withstand the stress of carrier takeoffs and landings.
He was deployed on various carriers, including the USS John F. Kennedy, and commanded two others, the USS Ashtabula,, a fleet oiler, and the carrier USS Saratoga.
In 1963, Admiral Ready married Judith (Burgess), a schoolteacher, who now lives in Virginia Beach, Va. Their marriage ended in divorce after 40 years. Admiral Ready married Mary (Fisher), an attorney, in 2004.
After retiring from the Navy, Admiral Ready worked out of Washington, D.C., for Lockheed Martin Corp. as a consultant and then as director of its Navy fighter plane projects. After he retired from Lockheed in 2003, he continued as a consultant on its Joint Strike Fighter Program until his illness. In addition to his wife, sister, brother, and former wife, Admiral Ready leaves a son, John David of Centreville, Va.; a daughter, Jennifer Koonce of Oak Hill, Va.; and five grandchildren. Interment will be at Arlington National Cemetery at 11 a.m. April 22.