'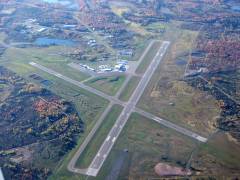 Welcome to the web site for Chapter 1270 of the Experimental Aircraft Association. Our chapter is located in Hancock, Michigan. For more information on our chapter, see the information page.
Elsewhere on this site, you can find information on the Young Eagles program, as well as the archive of minutes of the monthly meetings. The Hancock chapter of the EAA also has a number of ongoing Member projects and resources, including use of the Houghton County Airport (KCMX). If you are interested in online material related to our Chapter, or to the EAA in general, see the links page.
You can also become a member of Chapter 1270 of the EAA. Some of the benefits of membership include discounts at participating Ford and John Deere dealers, discounts on the Oshkosh, WI fly-in at the end of July, and free admission to the EAA AirVenture Museum in Oshkosh, WI.
Membership is $55, which includes $40 EAA membership and $15 ($30 family) local Chapter dues. Dues are paid in January of each year. To join, contact any local EAA member or come to a meeting. See the events list for times and meeting location.
EAA Chapter 1270 is a not-for-profit organization, 501©3, Federal Employee Identification Number 32-0110251