Link to HOME, OLDER FISH REPORTS
Saturday, July 14, 2018

Out with Bruce
Bruce needed a deck hand so I had to join him. He had done real well the day before. We headed out to where he caught fish the day before, of course the water was different and the fish had moved. It didn't take long and fish started to show up on the finder. They were on the bottom in 100 to 130 feet but they didn't want to bite. We changed lures a few times and managed a couple of trout. The dish soap came out and we washed off the lures and put them back fishing. That seemed to help but they still were not hitting well. After a mark showed up suspended, a line was set at 50 foot. It wasn't long and a trout hit that line. Another fish showed up suspended and one of the deep lines was raised to 60 feet. That line and the 40 foot line started to catch fish. I guess the fish were hitting suspended. It didn't take long and we filled our box with nine trout and one salmon, a good but challenging day.
Friday, July 14
The lake is changing
Marge and I took the Kala Moiakka out on a nice day. We set up in 90 feet and headed to where last weeks were, of course they had moved. There was a lot of dirty water piled up on the reef and the trout must not like it. When we found some cleaner water we finally caught a fish. From there we went exploring some of the rock piles in 130 foot of water. I had one line set for salmon at 40 feet and it tripped. The fish was a nice mackinaw and not a salmon. We managed to pick two trout off the rock piles and two more off the 40 foot line. I guess the trout are starting to suspend. We caught three off the bottom and three suspended. The water is kind of green looking after all the storms in the area. Hope it cleans up soon.
Tuesday, July 10, 2018
Gene's Boat
Gene has been busy this spring converting his boat from mechanical steering to hydraulic steering. This trip was a field trial for the new steering and also his shakedown cruise for the Neptune. I met him in the parking lot and we launched after a discussion about having the plug in and you might want to take the hold down straps off the boat before you launch. Everything worked and out we went to fish for "last years fish". Lines went in in 75 feet of water and one of the lines popped. I said, "looks like the releases need to be set". I casually started reeling in the line and it tripped because there was a fish on. It turned out to be a 10 pounder. We circled the area and fished from 90 feet to 110 feet and ended up with our limit of ten trout in a couple of hours. Not bad for a shakedown cruise. Gene loves his hydraulic steering as it makes his boat feel like a different boat.
Saturday, July 7, 2018
Family outing
The family arrived and wanted to go fishing. Six of us loaded into the Kala Moiakka and headed out. We headed out and set lines in 150 feet of water. Bruce was already out and had three fish by the time we got lines in the water. He was catching fish in 130 feet so we tried to get shallower. I was on a different reef and when I tried to get shallower it got deeper. We did manage to get a few fish while I was trying to orient myself and find the right reef. Once I got on track we started to catch fish. Everybody got to haul in some fish and we ended up with 14 fish. The cooler was very heavy as they were nice large trout.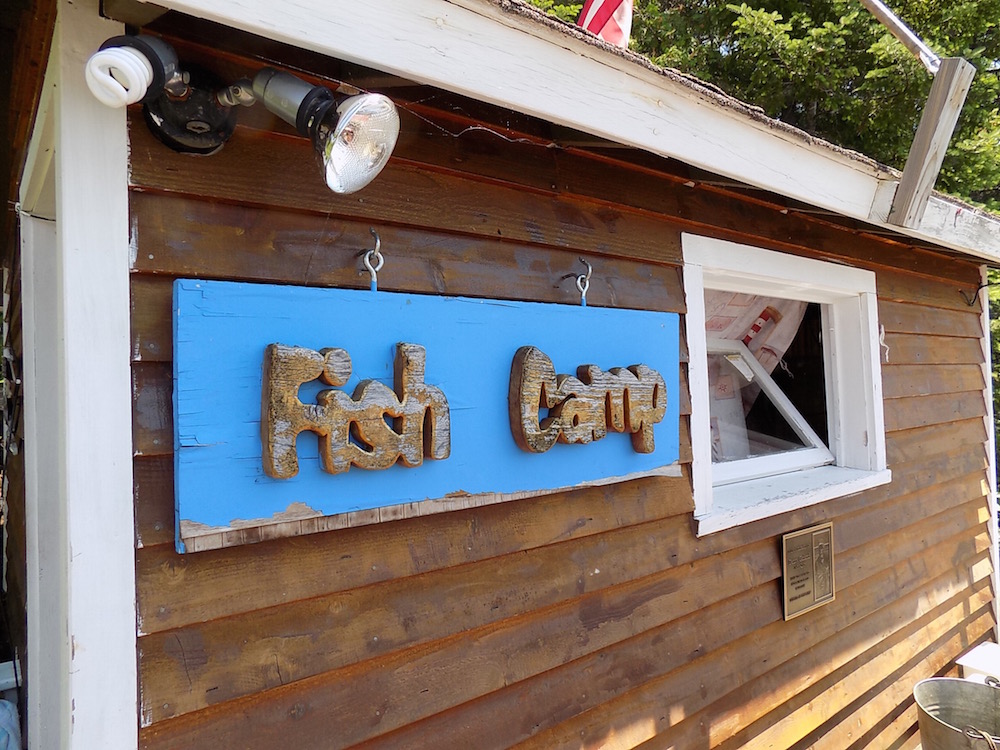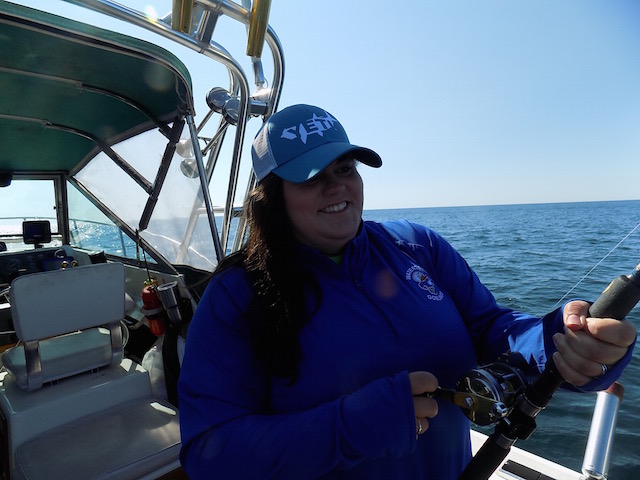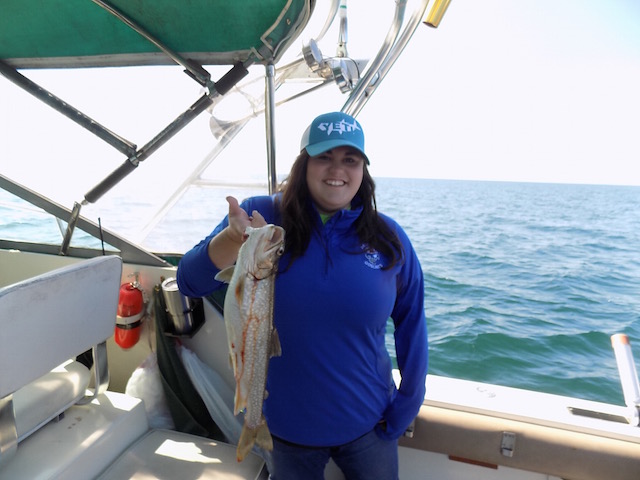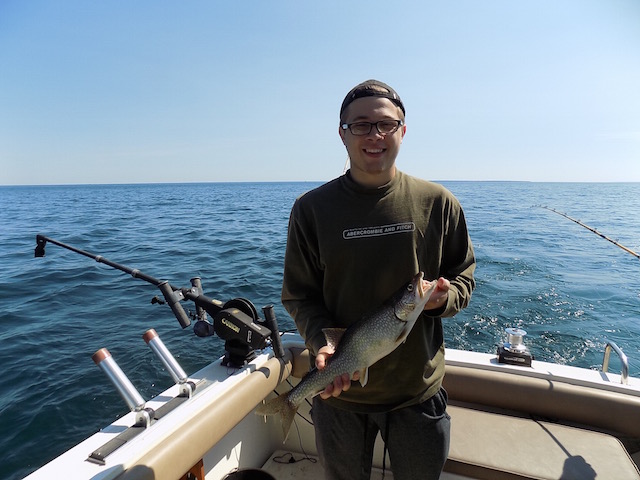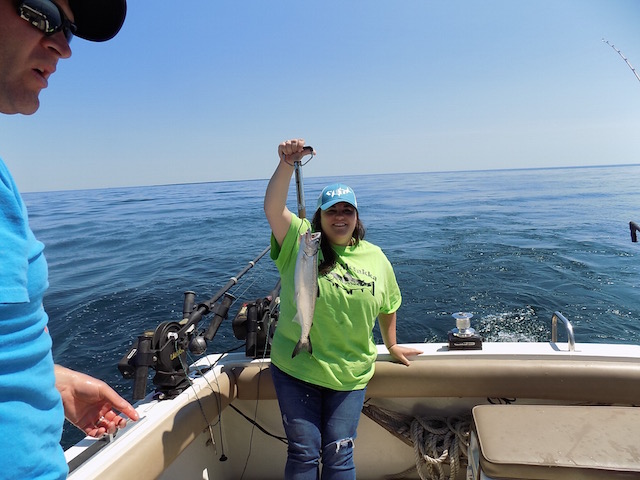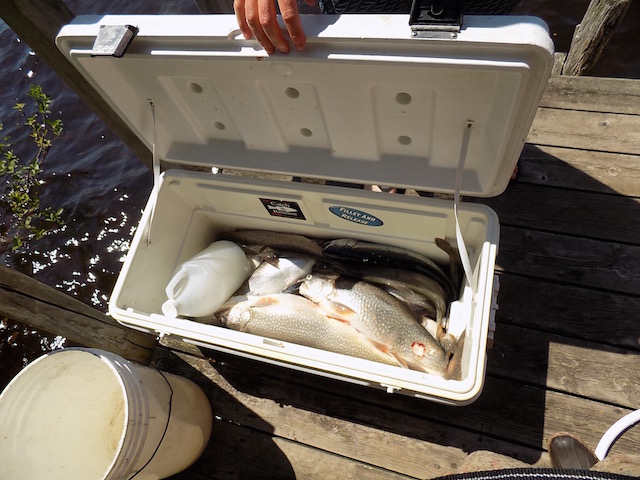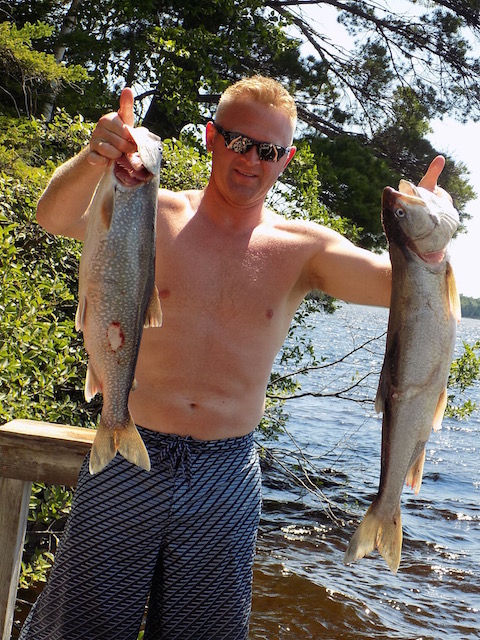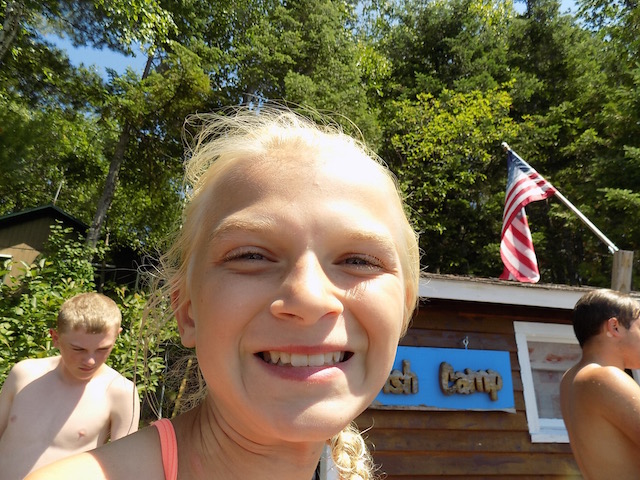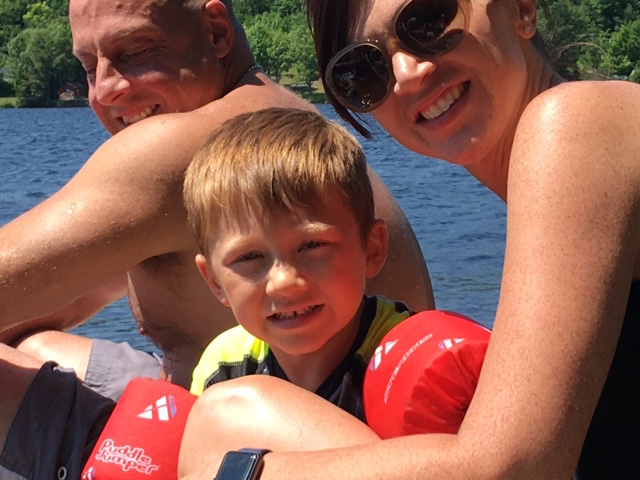 July 5, 2018
Smelt?
It was a nice evening so I went out jigging. I am still looking for the elusive whitefish. The new depth finder on the Red Boat showed some schools of fish in 65 feet of water. I dropped anchor and started fishing. It wasn't long and a fish hit my small pimple. It turned out the be a large smelt. The schools kept coming by and I caught 14 smelt. They will make for a nice smelt supper, a welcome treat in the summer.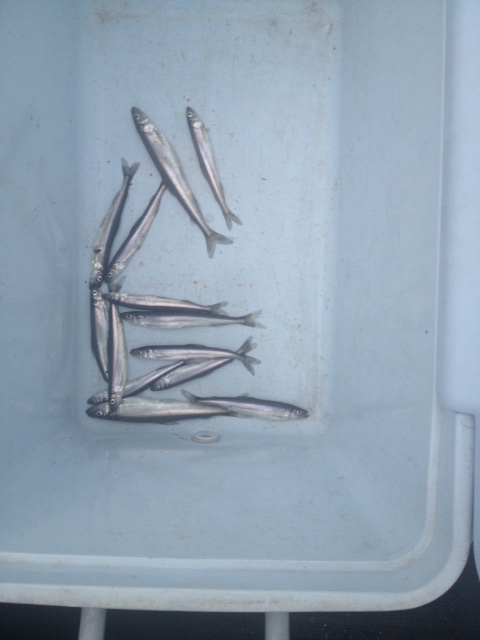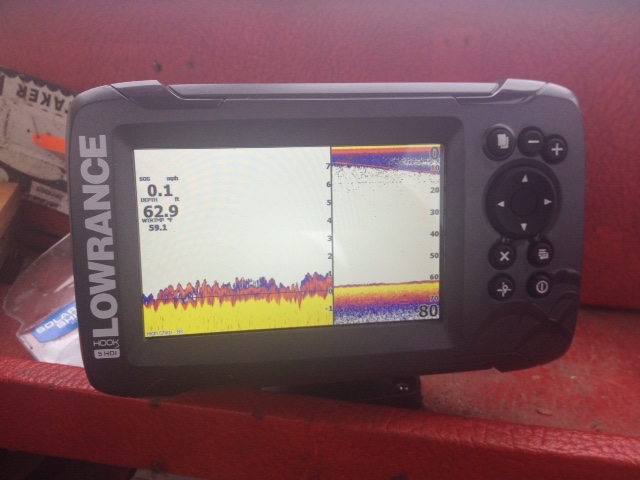 Note the smelt on the bottom. New fish finder on the Namacush.
Sunday, May 27, 2018
The Shallows
Our freezers were full so we decided to go look for splake in the shallows. Years ago we would fish for splake and lake trout in the 8 to 15 foot depths right up to the fourth of July. Lines went out on planer boards and two flat lines. The first pass came up empty but as soon as we turned around and hit a 8 foot reef one of the lines hit a fish, we lost it. Just after we reset it another fish hit and it was a 10 pound trout. We ended up with two more fish, a 6 pound and a 3 pound splake. Not bad for a sunny afternoon fish.
Saturday, May 26, 2018
Foggy again
After another good breakfast we made another radar run out to the fishing hole. The fish were still there and Bruce's boat was on fish right away. We set up and started drifting and were soon catching fish too. Joe was in to "catch and release" and was hooking fish, pulling them up 14 foot and the releasing them. That was nice of him. We fished till noon again and then headed in. The fish were cleaned but when we went to put them in the freezer the freezer was full. The fire hall had an extra freezer so we hauled the previous days catch up there to make room. It is nice to have the problem of too many fish.
Friday May 25, 2018
Still foggy
After a good breakfast of potatoes, eggs and bacon we headed out again. It was still foggy and calm. The lake temperature was 37.8 degrees so you had to dress warm. Bruce was out ahead of us and started catching fish on the first drift. We arrived shortly after and did a counter clockwise circle around their boat. Dave said it would put a curse on Bruce's geppo. It didn't work, he was still hauling in fish after fish. They had Willy the fish attractor on board so that gave them an unfair advantage We headed in at noon with 30 fish in the coolers. Steak, fish and baked potatoes for supper. We did manage to kill a fine box-o dinner wine.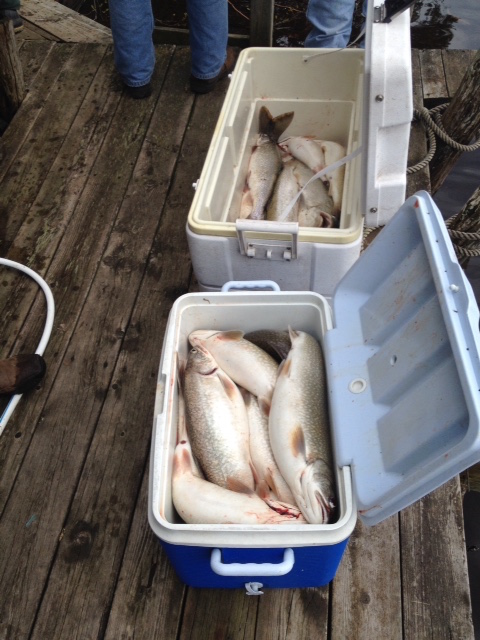 Thursday May 24, 2018
Crew arrives
Everybody but Willy has arrived. The first task was to put the floating section of dock in. Out came the ancient pump we use for jetting in posts. It wouldn't start. We worked and worked on it and finally gave up and borrowed a pump from the fire department. Once we had the pump the dock went in, boat was put in the water and we headed out into calm and foggy conditions. Willy had arrived by then and was wearing some custom shorts (old worn out pants with the pants legs torn off). He had forgot his pants and had to borrow some from Dave. We tried fishing the 204 foot hole and caught a few. Then we moved to Larry's hole and there were lots of fish there. We ended up with 17 trout ranging in size from 4 pounds to 10 pounds. Time to head back to camp for beer and bloody Mary's. Crew on the two boats was Bruce, Emil, Joe, Ernie, Dave, Willy, Fred, and me.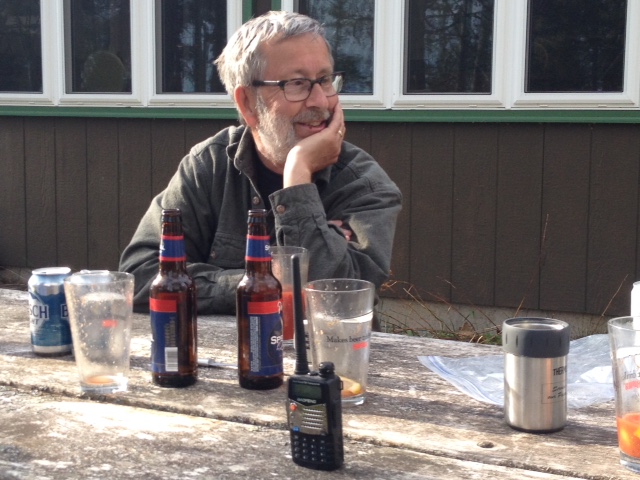 I think Joe had too many bloody Mary's
Wednesday May 23, 2018
Joe arrives
I went to the airport to pick up Joe. Plane was delayed in Chicago so I sat around and waited for 2 hours. The plane finally arrived and all the people deplaned and no Joe. Did he fall asleep on the plane and not get off? My cell phone was retrieved from my truck and I called Joe, he was still in Billings, MT and was arriving on the PM flight, not the AM flight. He did arrive at midnight and we did make it to camp.