---
By Charlie Hopper, Eagle River, MI on Wednesday, September 11, 2002 - 06:26 am:

Our bedroom overlooks the dunes and the Lake here at Eagle River. This morning before I was fully awake, I sat up to see a most awesome display of northern lights. Like a glowing curtain fluttering across the clear sky, or a giant flag waving in the upper atmosphere, they were brighter and faster than I have ever witnessed. As I type these words, streaks of daylight are overcoming the aurora as dawn arrives.

If you and I were standing on the shore at Big Traverse Bay, the sunrise above would just be under way. Our thanks to Sue Haralson for sharing it with the Pasty Cam.

How far away it seems in time and space from the unspeakable scene we witnessed one year ago today.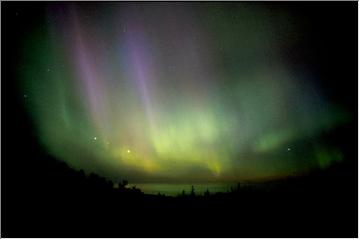 <!-/Post: 12169-!> <!-Post: 12170-!>