---
By Mary Drew at Pasty Central on Monday, June 14, 2004 - 06:46 am:

We welcome another new addition to our Guest Gallery... Neil Harri has joined the family and starts us out this week with a lofty view of the mouth of the Big Betsy River. It's been awhile since I've taken a drive out that way, so I was surprised to see the new homes that have been built around her. Plus, the clarity of Lake Superior never ceases to amaze me, especially when viewed from above. Check out the little white speck just to the left of where the mouth of the river enters the Big Lake... I think it's a seagull...

Happy Flag Day! Don't forget to fly yours, celebrating our great Flag!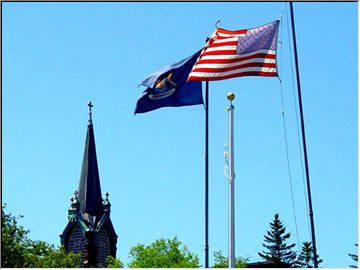 <!-/Post: 36778-!> <!-Post: 36779-!>