---
By Charlie at Pasty Central on Saturday, April 17, 2004 - 08:31 am:

I want to thank Toivo for handling the weekends so far this year. It has given me time to get the taxes done, and catch up on a few other projects. One of my favorite features on this website is our Sunday "Shoebox Memories", to which I'll be returning, now that April 15 is behind us. Toivo will still man the helm Saturday mornings here at Pasty Central, while Mary Drew continues to do the lion's share of the work during the weekday Pasty Cam.

On behalf of our staff, I want to say a special Thank You to all who support this daily feature with your regular order of pasties. As we approach the quarter million mark on the pasty-counter, we are considering how we might present a "Pasty of the Month" club, with a discount for folks with standing orders monthly, quarterly, etc. Stay tuned!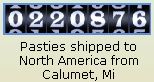 <!-/Post: 33026-!> <!-Post: 33028-!>