---
By Charlie at Pasty Central (Chopper) on Sunday, January 1, 2012 - 07:49 am:

Happy New Year!

If you are new to the Pasty Cam... where have you been the last 14 years? Every day we have been here with news and pictures of Michigan's Upper Peninsula. We were 'blogging' long before the word was invented, a 'social network' for the U.P. when Mark Zuckerberg was still in Junior High.

Every Sunday, Pasty.Com has a feature called "Shoebox Memories", and we kick off 2012 with one from the Shoebox of Ron and Carol (Hart) Kersey. But first we give a big thumbs up to the hundreds of friends of Amy Roberts who turned out in Laurium yesterday to support her.

Recently struck by a car, our running friend Amy is recovering in Marquette from serious head injuries. As Amy is proud of her Finnish heritage, the event was dubbed, "Run Like the Finn" - which is exactly what hundreds did through the streets of Laurium. Prayers and best wishes go out for Amy and her family for a speedy recovery. Later we'll have an update on the attendance and $ totals raised yesterday.

But now let's go back to the streets of Laurium and Calumet in 1939, where teenager Joyce Rader and her fiancee Charles Hart (sitting on the fender) were doing a little social networking of their own. That's hometown boy Ray Fahlen and his date from Silvis, Illinois, Evelyn Clark.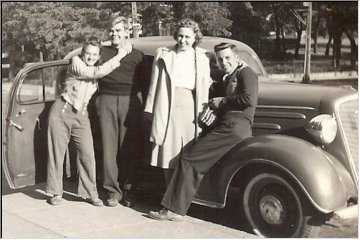 Ray has since passed away, and we know nothing more about Evelyn. But Charles waited until Joyce was all grown up (age 19) and they got married and had a whole bunch of kids. Charles, of course, went on to serve for several decades as camp director at Gitche Gumee in Eagle River and pastor of First Baptist Church. Joyce, on the other hand, became famous for her poetry and pasties. Pasty Central actually incorporates some of Joyce's crust-making techniques in the delicious U.P. Style and Cornish pasties we send to all 50 states.

Recently my wife Edie and I had the pleasure of a visit with Pastor Hart and Joyce. Their days are spent at a lovely assisted living home downstate, where we visited all afternoon, reminiscing about life back in Calumet and Eagle River. Joyce told us about one winter's night when their son Jack jumped into the snow out of his upstairs window... in his underwear! Joyce asked Charles if he remembered that, to which he replied, "Yes I remember, but I didn't know he was in his underwear!"

As we turn the page on a new calendar, how thankful we are for friends who have touched our lives, and we wish for each one blessings and happiness in the New Year.

Have a good week :o) <!-/Post: 111434-!> <!-Post: 111438-!>