---
By Mary Drew at Pasty Central on Tuesday, January 11, 2005 - 05:42 am:

No other living woodpecker can be confused with the Pileated Woodpecker photographed here, by Lori LaRoux. Looks like this one was busily pecking holes in the pine tree looking for dinner of course. Take a look around the holes it has already made in the trunk and you'll notice the bark pecked away. These crow size woodpeckers do this so that the sap will run down, keeping some predators from entering. They will make up to 16 holes in each tree, to allow for escape routes should a predator get past that sap and into the tree. I've always thought these birds were quite skittish when it comes to people, so I was surprised when Lori sent me this shot taken right in downtown Lake Linden!

Not the first time the Pasty Cam has spotted the work of one of these craftsmen...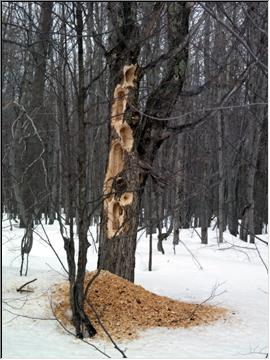 As seen on April 5, 2001

<!-/Post: 11300-!> <!-Post: 11305-!>