---
By Charlie at Pasty Central (Chopper) on Wednesday, March 24, 2010 - 04:23 pm:

In the second photo, if you turn left at the building (Eagle River Inn), go up 2 blocks and cross the lower bridge over the river, turn left and walk up the hill - there it is, the cedar shake house on the right. That's where I'm typing these words right now, and where the Pasty Cam has originated every day for the past 12+ years.

The daily mention of the Shelter Challenge is OK as far as we're concerned, as the Pasty Cam has been a beneficiary of the hard working volunteers of the Copper Country Humane Society. Several of the animals you have seen on these pages are alumni of CCHS, and if a daily reminder here can help them advance their mission, it's just returning the favor. If the hidden motive of the contest sponsors are to bring people to their site, I agree with Sconie that it is a "well-crafted" promotion, with the end result that CCHS has already benefited by the $1,000 weekly award announced earlier this month.

As I look out over the Lake, an almost identical scene to those above, I happen to have one of those CCHS alumni here at my feet. Say "Hi" Shadow...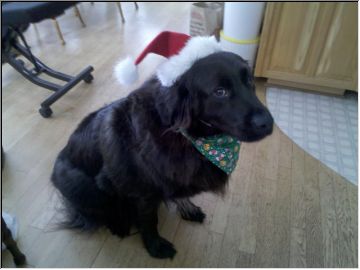 <!-/Post: 91920-!> <!-Post: 91921-!>