---
By FRNash/PHX, AZ (Frnash) on Friday, December 18, 2009 - 11:35 am:

Aw shucks, in the 1999 photo, "Which way to go?", the bottom sign is not completely visible. I had to go back to the source to discover that it says: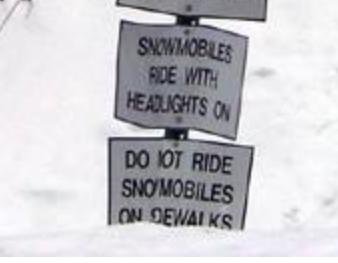 "DO NOT RIDE
SNOWMOBILES
ON DEWALKS "


Dewalks? is that a Yooperism?
---
And speaking of Ontonagon, it sure was sad to hear that Smurfit-Stone Container Corporation has announced plans to permanently close the Ontonagon mill. That's going to be a really severe thump "on da noggin" for the village, the county and the region, fer sure! <!-/Post: 89139-!> <!-Post: 89142-!>