---
By Charlie at Pasty Central (Chopper) on Sunday, December 3, 2006 - 07:22 am:

<!-NOTE: Message edited by 'admin'-!> Snow finally came to the U.P. this week after a long dry spell. Much of this year's deer hunting season transpired without the tracking edge the white blanket provides. Apparently that's how it was in the winter of 1909-1910 when a mysterious photographer by the name of Stierle spotted today's Shoebox Memory. The only thing I could find on the web about Mr. Stierle was that he was from Menominee, Michigan.

If you have a deer hunter on your Christmas list this year, you will want to stuff his stocking with one of the 2007 Historical Deer Hunting calendars. It is filled with vintage photos and original artwork, as well as venison recipes and, of course, the 12 months of 2007. There are 3 ways you can order the calendar: 1) browse to HistoricalCalendars.com. 2) If you have a pasty order scheduled this year, email orders@pasty.com and request one of the Historical Calendars ($12) to be included in the box (saves the shipping).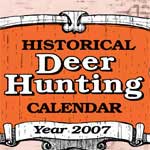 And if you are one of the rare visitors to this site who has not