---
By Charlie at Pasty Central (Chopper) on Sunday, February 5, 2006 - 10:29 am:

Yesterday Edie and I drove to Baraga, along Keweenaw Bay, where it is normally dotted with fishing shanties this time of year. Unusually warm conditions this winter have left the Bay iceless... It looked like you could surf on the waves this Super-Bowl weekend.

Patti Vickers has supplied the Pasty Cam with dozens of interesting U.P. photos over the years, including todays Shoebox Memory from the 60's. Obviously it was cold enough that winter for our eager fishing party to set up shop. And obviously it wasn't Keweenaw Bay, but some other inland lake, by the looks of the buildings above the shore. Looks like a mighty fine catch.

If you happened to catch the "Internet Advisor" program on WJR 760 from Detroit last night (and streaming on the web), yours-truly joined a raft of other guests who have appeared in the past on their weekly show. (It's kind of like "Car Talk" for computers). Last night they were celebrating 8 years on the air. Back in 2000 the show's co-host Gary Baker visited us at Still Waters and did a live remote one Saturday from our beauty shop (but that's another story, maybe for a future Shoebox Memory.) Anyway, congratulations to Gary, Foster, and Ed for this 8th anniversary milestone, which, by the way, the Pasty Cam will reach at the end of this month: 8 years of bringing a new picture and topic of U.P. discussion every day.

Thanks again to Patti for todays groovy shots from the 60's, a glimpse of life from the land of snow and pasties. Which reminds me, don't forget the big snow event coming up this Friday at Michigan Tech. Have a good week!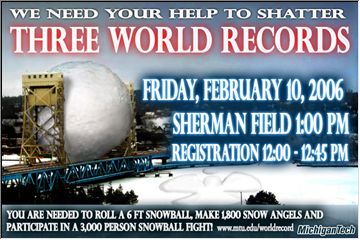 <!-/Post: 30509-!> <!-Post: 30503-!>