---
By Charlie at Pasty Central (Chopper) on Monday, January 16, 2006 - 05:18 am:

<!-NOTE: Message edited by 'admin'-!> Bill Haller and Mrs. Bill have a great view outside their window, down near the channel at Bete Grise. That golden glow in the distance is Bare Bluff, which the Pasty Cam has visited on several occasions, just not quite from this angle.

The Hallers are among our more remote Pasty.NET members on the Keweenaw broadband network, enjoying a wireless connection to the Internet, bouncing down to the beach from Mt. Horace Greeley. This month as our new Network Center comes online at The Hut, we'll be increasing speed for members like Mr. and Mrs. Bill... and those of us here on the sunset side of the Peninsula, too (in Eagle River). A great view of the Big Lake and fast connections... who could ask for more?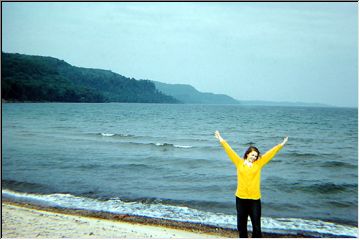 From the Archives, 19 Jun 2002


Mary Drew will return from the MLK-holiday tomorrow

Ever notice how the B is next to the G on the keyboard? This message originally said Bete Brise ;o( <!-/Post: 29661-!> <!-Post: 29665-!>