Link to HOME, OLDER FISH REPORTS
Wednesday, September 7, 2016
Our fishing friends, John and Robin, from Minnesota stayed at the camp for a couple of days. Their duaghter just got married and they needed some R & R. The forcast wasn't too good but when we got up it wasn't very windy so we headed out. There were some two foot swells from the SE and a 1 foot chop from the NE. This made for a confused sea but both Robin and John are experienced sailors. Lines went down in 140 and fish hit the "usual" right away. Two lakers came aboard before we hit the reef. The depth came up to 90 feet and there was a mark from a large trout on the finder. A line tripped and we were fast to a boat stopper (a large lake trout). It turned out to be a twelve pound Mackinaw. We fished the reef and picked up a few more large trout. Then a cluster of trout showed up right on the bottom. When the lines were dropped to the bottom they tripped and we where fast to another abandoned gill net. That is the third net this season, way down from last year when we lost tackle in 8 nets. All we lost was one spoon, our favorite one too. After things got straightened out two more boat stoppers came aboard and the cooler was getting pretty full. That was enough trout so we headed for the salmon area and caught one nice coho before we called it a day. Here are pictures of John and Robin with a 14 pound trout and a coho.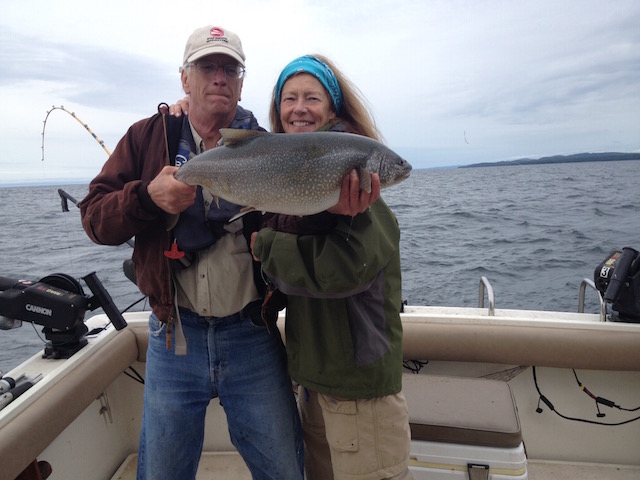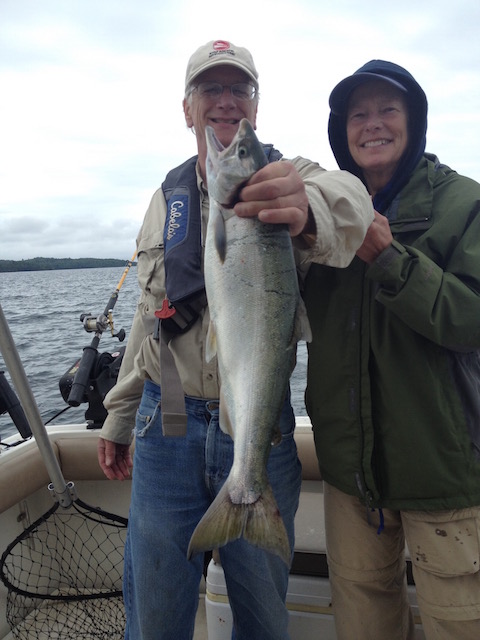 Sunday, August 28, 2016
Bruce wanted to go out but it was looking a little windy so we decided to take my boat. Gene joined us and we headed out into one and a half to two foot seas. We were cruising at 10 MPH and were watching the depth finder. It looked like a nice strong thermocline at 100 feet. As we cruised over a drop off, some fish marks showed up on the finder. Lines went down in 124 feet and soon there were fish on. We even had a couple of doubles. Our box filled up with a limit catch of 15 fish and we headed in at 12:30 to clean some fish.
Wednesday, August 17, 2016
Another nice day and another impromptu trip. Marge and I picked blueberries and driving back I saw that the lake was calm. Ed Jenison had his son Erick and grandson Jake visiting from North Carolina. We stopped by their place and asked if they wanted to go out and look for some salmon. They decided in seconds. The lake was very calm with no wind and two inch waves. Since we had time before "magic hour", we set up and tried for some trout. A week ago ten trout were caught in this spot in two hours. Today there were no trout to be found. A move was made to the salmon grounds and soon a line tripped. Jake brought in his first Lake Superior fish and it turned out to be a four pound trout. Ed caught another trout and then we had some hits that didn't stick on a dipsey. A dipsey tripped and the line was just peeling off the reel. It must have been a king but we will never know for sure because it straightened out the hook and was gone. Just before quitting a shallow rigger tripped and this fish looked to be a steel head because it was in the air mor then in the water. That one got off too. The full moon came up and we had a nice ride back into the harbor with the reflection of the moon showing in the wake of the boat. The catch was three fish in the box. We would have had a full box if Erick's brother hadn't dropped my best lure over the side of the boat on a previous trip.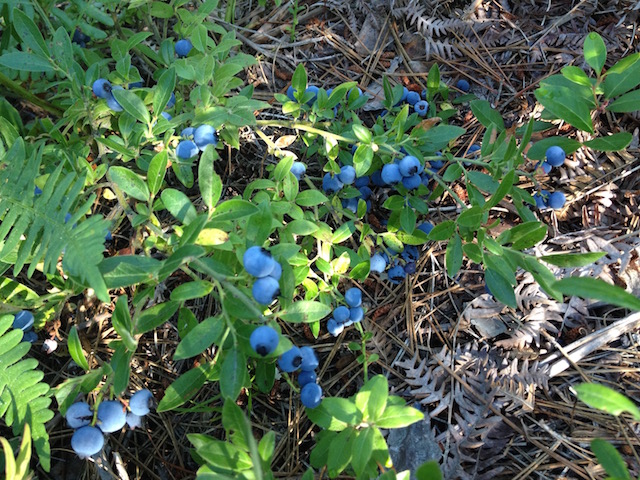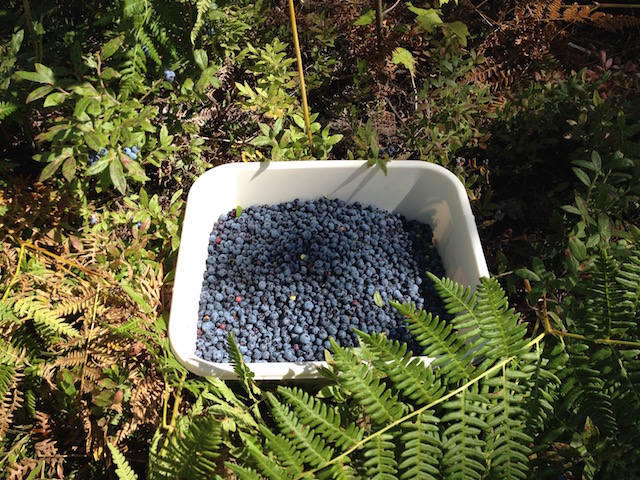 Monday, August 15, 2016
My cousin Jerry joined Emil and me for a trip out on the big pond. This was a spur of the moment decision and we left at 1:30 in the afternoon. The seas were running about 1 footers from the South East. The ride out wasn't bad so we hit the offshore drop offs. There were a lot less fish there then there were out last week. It didn't take long and fish started to hit, remember, fish don't hit in the afternoon. The fish were in 130 feet of water and near the bottom. It took a few lure changes and they started hitting pretty good. We quit with 13 fish in the box.

Wednesday, August 10, 2016
We took Gene's boat out today. There were one footers from the North East as we headed out of the channel. Gene throttled down the boat in 80 feet of water and I put the first line down. We must have picked the right spot because the line hit bottom, I walked over to the other side of the boat and the first line tripped. It was a nice eater trout that soon was slipped into the cooler. Then I put the second line down and it tripped with a nice salmon coming from 80 feet down. It didn't take long and we had seven fish in the cooler. Then they quit hitting and we had a hard time picking up our last three fish. We lost one right at the net and lost a very large fish that was taking out line on us. Then we caught a dink and threw it back. That gave us ten fish and we headed back to the dock with a full cooler.
Monday, August 5, 2016
My cousin Erick, his wife Carol and their daughter Kelsey along with Bruce being a deck hand wanted to go fishing. The winds were light and the seas calm when we headed out. Just after clearing the breakwall I asked, "do you want to go fishing or catch fish". Kelsey didn't hesitate, she said, "catch fish". We had a school of fish located down the bay so the Kala Moiakka was powered up and down the lake we went. We started fishing in 140 feet and it didn't take long and we had fish on. The heavy lifting was left up to the girls as Bruce ran one downrigger and Erick ran the other. The girls we're kept busy hauling in fish and as soon as the fish was in the net the fish was unhooked and the line put back down. We ended up with 15 fish in the box, Erick caught one with Kelsey and Carol catching 14.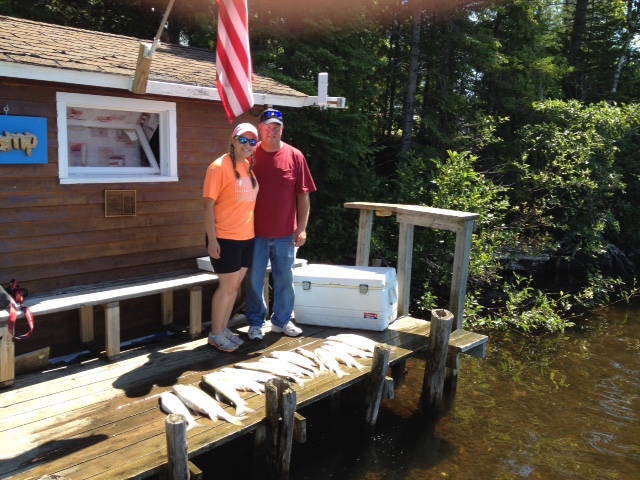 Wednesday July 27
The forcast was for NE winds less then 10 and the rain was predicted to be south of us. Bruce called and said, "lets go fishing" so what could I do but say, "OK". We recruited Emil and decided to use the Kala Moiakka today. It would handle the sea a little better then Bruces boat. When we got to the fishing grounds the seas were running about a foot and a half from the North East. There was enough capping that the auto pilot could not reliably hold course. Steering was a chore and it was good that we had a crack crew manning the lines. We hit fish from 120 feet to 170 with the most fish coming from the 140 foot depth. We made one pass along the reef and one pass down wind. The fish were hitting pretty good so Emil counted the catch, we had 14 fish in the box. It didn't take long and Emil put the last one in the box. We were done at 12:15. Time to head for the barn after a good morning on the water.
Tuesday, July 26
Helltown Willy, AKA Wild Bill, (not the one from the Deadliest Catch) has been bugging me to head out fishing in the Red Boat. The last time we fished in the red boat he caught 9 and I caught 1. We fish with meat lines, (no rods, just lines off some light downrigger balls). I am not sure if Bill just wanted to outfished me or was just rusty at netting fish. He managed to knock off my first two trout while I expertly netted his trout. Then I tried to flip one into the boat, that one fell off two. I had a double with a coho on the top lure and a laker on the bottom one. The coho managed to get off while the trout was netted by Bill. My trolling motor started to act up too. It would run on one calendar and occasionally the second cylinder would kick in and cause the trolling speed to vary. This didn't help when trying to land a trout. Ohh, Bill did a Billy Jean King move. He turned his net into a tennis racket and had the fish in the net, in the air, on the other side of the net and into the water. This was a feat worthy of a pro tennis player. We ended our trip with 8 trout in the box and lots of stories to tell.
Friday, July 22
The family made their annual trip north to Fish Camp. Friday looked to be the best fishing day, well the forecast and the wind direction did not match up and their was a brisk breeze out of the south west. We ran out of the channel and into a two foot swell. One of our crew was turning a little green even before a line was set. It was a good think thing that it didn't take long to hook into a trout. Evan landed the fish and forgot about being a little sea sick. The fish were hitting good and things were going well. Then they seemed to quit hitting while the waves were getting bigger and bigger. We pulled the pin with 12 fish in the box and headed back. It will be another big fish fry at "fish camp" again this year.

Wednesday, July 20, 2016
My cousin Ronnie came up to open up the camp in Helltown. The weather was nice so we called Emil and went fishing. We tried for last weeks fish and they had moved on us. We managed to catch a couple of smaller fish but the bigger ones had moved. The lines came up and we started hunting for fish. While running to a new location we located a thermocline down 100 feet. Where the thermocline hit the reef there were some large marks. It looks like we found the trout. The downriggers went down and it wasn't long and a nice 6 pound trout hit. After that it was easy, there were fish marks showing up all over the place. We quit with 12 fish in the box. Ron said he had to drive 400 miles to get a nice catch of fish.

Sunday, July 10
The class of 63 goes fishing again. The crew was Dave (Mr Mayor), Dan (The author), Pauly (Mo), and Emil (pooka). Everybody was here, the boat warmed up but Mr Mayor wasn't here yet. He is still on California time and showed up 15 minutes late. The lake was calm and we had a good trip out to the fishing grounds. Lines went down and it didn't take long and we were into fish. The fish had moved from where they were yesterday and were not as widespread. We basically fished two lines and when we would land a fish we would turn the boat around and head right back through them. The crew did a good job and we were busy hooking fish, fighting fish, getting them out of the net and getting the line back down. Everybody pitched in and there was not much wasted fishing time. Dan and Dave kept us laughing with all the stories from our high school days. The day ended with 17 fish in the box. Most of them were larger trout from 4 to 8 pounders. Another great day on the lake.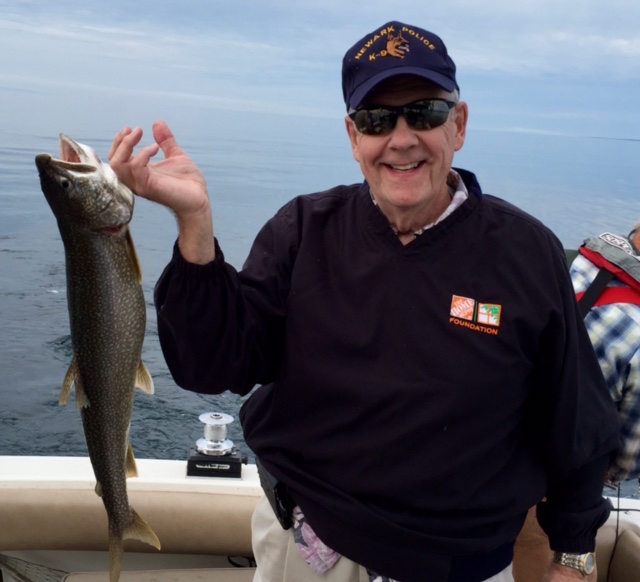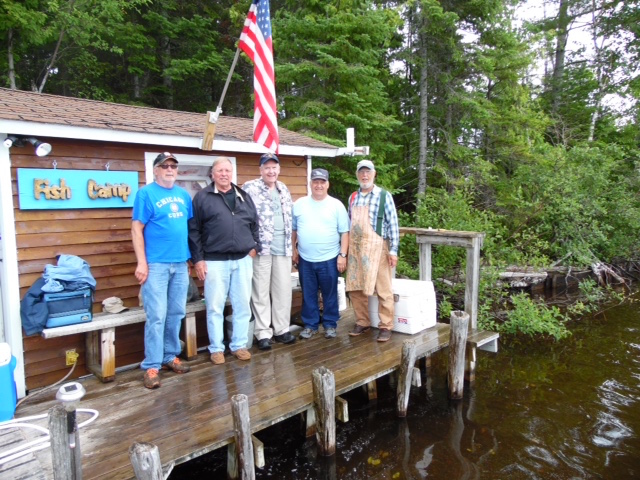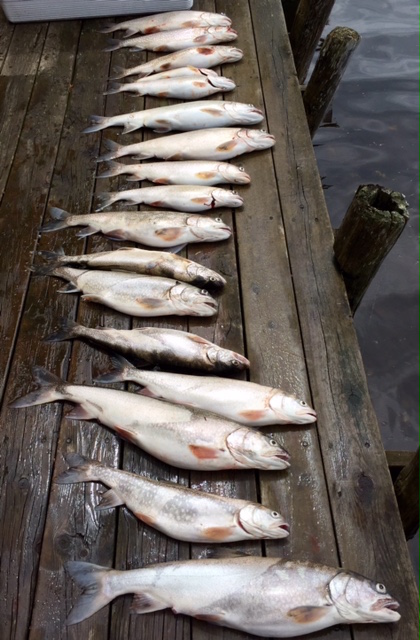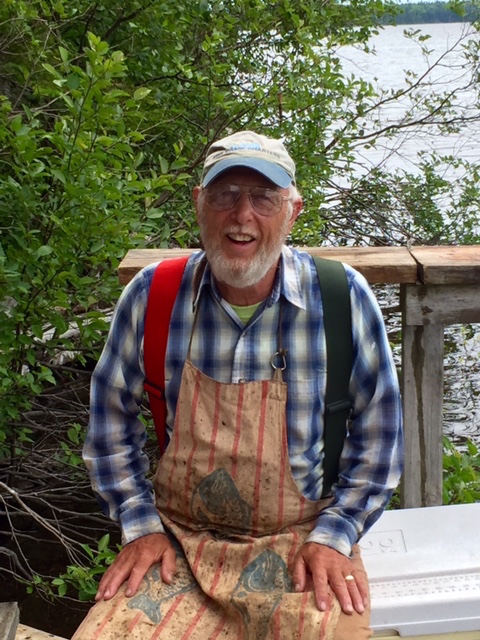 Saturday, July 9, 2016
George was getting no ready to head back to North Carolina so it was time to get him some trout for his trip back. The weather was looking good for Saturday afternoon so out we went. The crew was George, Ed Jenison, and Ed Schneiderhan. I slowed the Kala Moiakka down in 155 feet and switched the fish finder to fish finder mode. It showed that we were over fish. I turned back and ran into 140 feet. Down went the down riggers and the fish started hitting. Most fish were down 165 feet and on the side of a reef. We worked the side of the reef, every time we hit the 155 to 165 foot depths we caught fish. We caught 12 trout in a couple of hours. George will have a nice pile of lake trout fillets to take back to North Carolina.

Tuesday, July 5, 2016
Skip came up from Iron Mountain with Son in law Tom and grandkids, Henry and Joseph. Since they were planning on heading back to Iron Mountain we had an early start at 8:00 instead of our usual 9:00 starting time. After a short run out into the big lake lines went down in 160 feet. I had to explain everything to the crew as they were all rookies at big lake fishing. We got the two downriggers and dipseys set as the boat approached the reef. A line tripped and Henry was attached to his first Lake Trout. Things got a bit hectic after that. We hooked and lost a couple and the had a triple on. The crew had it figured out by then and we put all three in the box. There were lots of fish showing up and all it took was one trip down the reef and one trip back and we pulled the lines with 19 fish in the box. A very good day with a very good crew.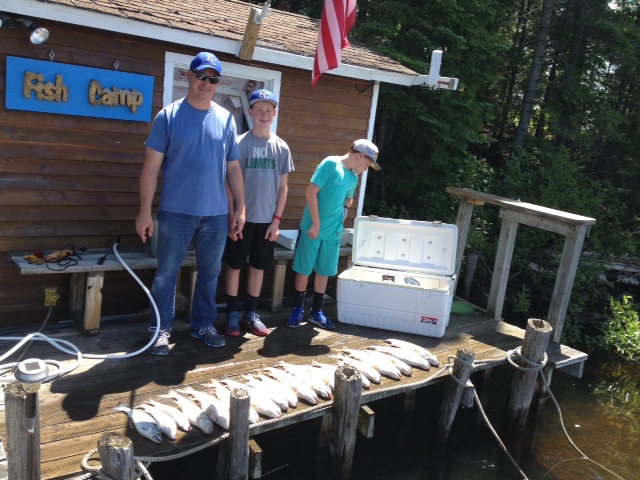 Sunday, July 3, 2016
Marge and I made the decision to go for a boat ride, of course that ment that we had to try fishing. It was a nice day and when we got out in the lake there was a slight South West wind so we traveled upwind so we could start fishing down wind. When we got to our starting point the Kala Moiakka was pointed down wind and down went the first line. I walked over to the second line and before I touched the rod the first rod tripped and Marge was fast to her first lake trout of the season. That one was landed and down went that line again. As I turned to get the second line set it tripped again. This fish didnt stick. Down it went again and in seconds it tripped again and this time there was another fish on it. I managed to get the second line down while Marge was hauling in this trout. We made our pass to the end of the reef, turned back and finished with our limit of 10 trout. The Kala was turned and we headed back towards the breakwall. On the way in we checked out a couple of places where we had abandoned gill nets marked. The first one showed a net that is suspended from 60 feet to 126 foot and just waiting to catch in the tackle of an unsuspecting boater. It will be reported to the Indian DNR so they can remove it.
Wednesday, June 29, 2016
The crew today was Chunky, Bruce, Ed and Ed. They were supposed to drive over and meet me at Fish Camp but there was a problem. The road was blocked by a paver spreading new blacktop. It was a big one and did two lanes at a time, no room for a car to get by it. A quick change of plans and they went over to Bruce's dock and I took the boat over to pick them up over there. Lac La Belle was calm but there was a one foot chop coming from the South. That killed the bobbing chances so we had to troll.
Lines went down and we started marking fish. It didn't take long and a line tripped. The fish didn't stick. Then the same thing happened to the other down rigger. The releases were new and not adjusted. We tightened them up and the fish started to stick. The first fish were running small but soon we located a region with larger trout. We even had a couple of doubles and one double ended up with both trout being netted in one net. It turned out to be a great day and we ended up with 21 in the box when we headed back towards shore.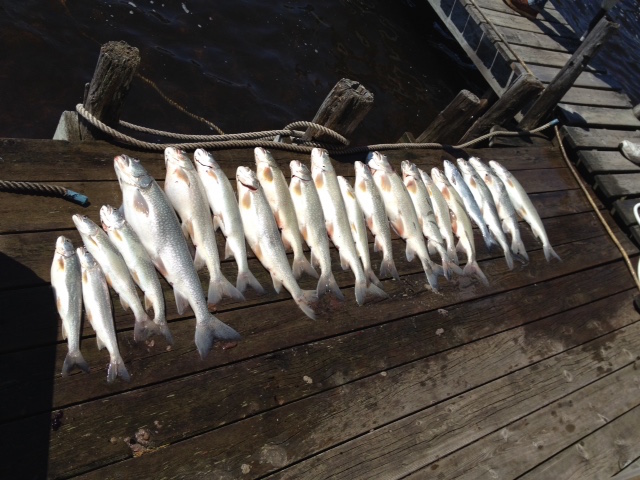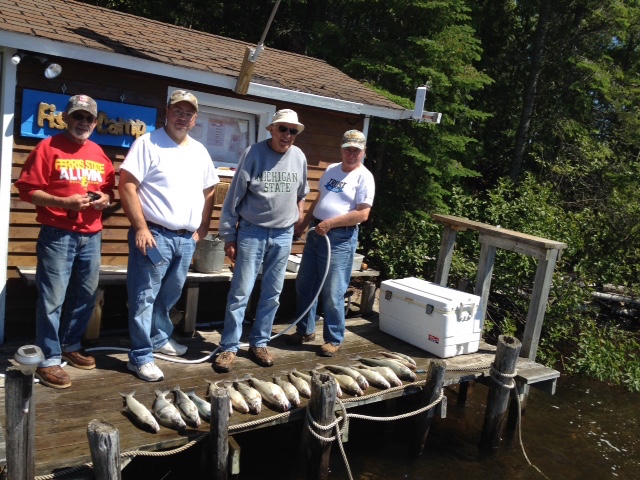 Tuesday, June 28
No whitefish in that lake. I fished for two hours in 60 feet, 65 feet, 75 feet and 105 feet. I never marked a fish or had a bite. Since I had lake trout bobbing tackle aboard out to the bobbing grounds I went. I caught one bobbing, I should have taken sucker bait with me. Out came the downriggers and lines went down to 160 feet. It didn't take long and another fish was in the box. I trolled for an hour and a half and filled the box with five trout.
Thursday, June 24, 2016
I put the red boat in and tried jigging for whitefish in the bay. I had the usual luck, no bites. The boat ran well.
Wednesday, June 23, 2016
The weather seemed to be turning better and Bruce stayed down to do some more fishing. Troy Ruter, a Green Bay whitefish guy, is moving up to the Copper Country so we took him out to show him Lake Trout fishing 101. Emil rounded up the crew to four.
We headed out to fish last weeks fish and of course the big blow we had moved the fish and they were not there. We looked around a little and finally a fish mark showed up on the finder. Lines went down and we started bobbing. It was so calm that the lines hung straight down. That doesn't happen very often. Bruce caught the first fish, Emil was up to his old trick of hooking and loosing fish a few feet off the bottom. Then Troy caught his first lake trout bobbing. It took a couple of tries because he wasn't used to "ripping their lips off" by setting the hook hard. If you try that with whitefish you loose them every time.
We moved around a little and soon we found that the fish had moved deeper out to 195 feet. These were the bigger trout that we were looking for. I even added some fish to the fish box. (I was having a hard time landing fish) We filled the box with 20 fish at two o'clock and headed in. I hope Troy doesn't expect to do this every time he goes out Lake Trout fishing.
Friday, June 17, 2016
It was the day before the Longest Day fishing tournament. You don't want to be part of the mess of boats that head out of Lac La Belle on tournament day. This was the shakedown cruise for Bruce's boat. The crew was Bruce, Emil, Bill Stocker and me.
A high pressure system was moving in and as expected the water was calm on the bay. There were no clouds in the sky and the lake was a beautiful shade of blue. The fish on previous trips were hanging out in the 200 foot mark. That is where we started. We managed to catch one little trout in two hours of fishing. Clearly this was not working. Bruce powered up his engine and we ran down the lake a couple of miles to try different water. The Roamer was throttled down to trolling speed and the search for fish was on. When the top of the reef was reached a couple of fish marks showed up in around 160 feet. Lines went down and we started drifting. Even with slick water and no wind the boat was moving slightly and the direction of drift was noted on the GPS. It didn't take long and the crew started to haul fish on board. These were bigger fish and most were running from five to eight pounds. Everybody was catching fish but Bill and Emil. Bill was getting bites but just couldn't put the hook into one. Emil was having a similar problem, he would hook a fish and get it about fifteen feet off the bottom and it would get off, he almost started swearing. Finally the fish started to stick for Emil. I switched rods with Bill and he started hauling in fish. We quit at three when Bruce's fish box filled up. The total for the day was 19 trout. It was a two man job to lift the cooler out of the boat, one very successful shake down cruise.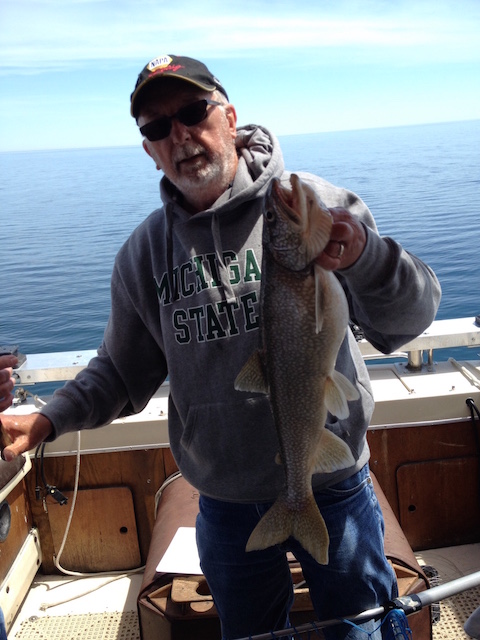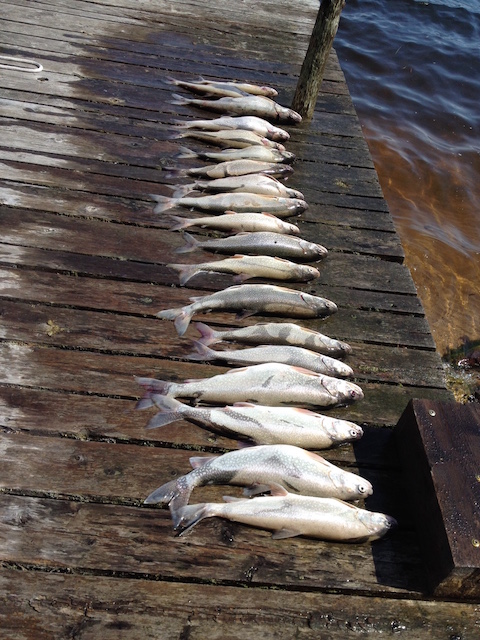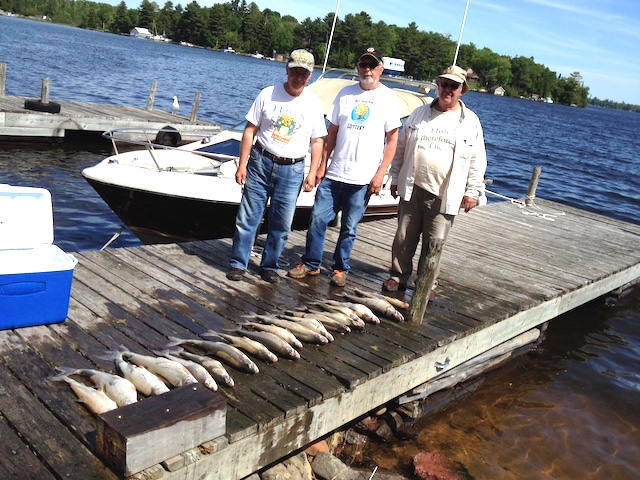 Bruce, Emil, and Bill

Saturday, June 11, 2016
Fred, his wife Terry, and a foreign exchange student Jasmin, came up from the Iron Mountain area to have a fishing weekend at Lac La Belle. Things didn't look very good as the forecast was for a strong NW wind. When the boat cleared the breakwall it was into three foot swells from the East. The predicted winds from the Northwest were also present. This led to a very confused sea.
Since the crew was not very seasoned we decided to fish the shore line and look for splake. Lines went in at the channel and we fished the depths from 15 to 25 feet. With no hits in the first hour of fishing the shallows, the deeper water was our next plan. A quick radio conversation with a charter captain revealed that he was getting fish from 170 feet to 185 feet. The fish finder didn't show any fish till we got to 172 feet. We had no sooner pulled a line and there was finally a good fish mark showing. It didn't hit the one remaining line so that one was pulled. The plan now was to go out to the bobbing hole and see if we could hold anchor out there. The seas had calmed by this time and there was a chance that we could get into the lake trout waters. No sooner had the anchor hit the bottom and the wind picked up again. The anchor didn't hold, the boat pitched and rolled, and Jasmin was chumming. That was it for that plan, the anchor came up and the boat got the deck washed as we headed back into the bay.
It was calm in the bay with the offshore wind blowing. One pass was made in the 15 to 20 foot depths with no results. As we turned back towards the channel we still didn't have a fish in the cooler. When the depth reached 50 feet the down riggers were dropped to 40 feet. It was about a half mile back to the channel and just before we got to the drop off Jasmin said, "something is wrong with that line". The rod was pointing at the sky and the line at the surface. Finally, we had a hit but that fish didn't stick. The boat was quickly turned around and back we went to where we had the hit. A down rigger tripped and Jasmin was hooked to her first fish. She landed it and it was a nice three pound coho. We circled the area and ended up with three more salmon. A good way to end the day and Jasmin got to catch a fish before she goes back to Germany.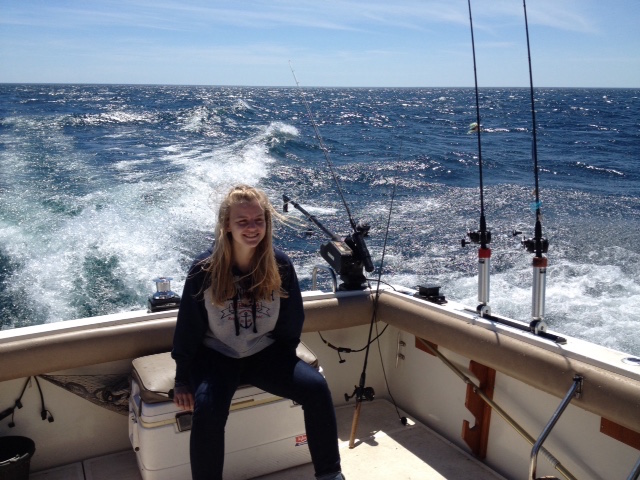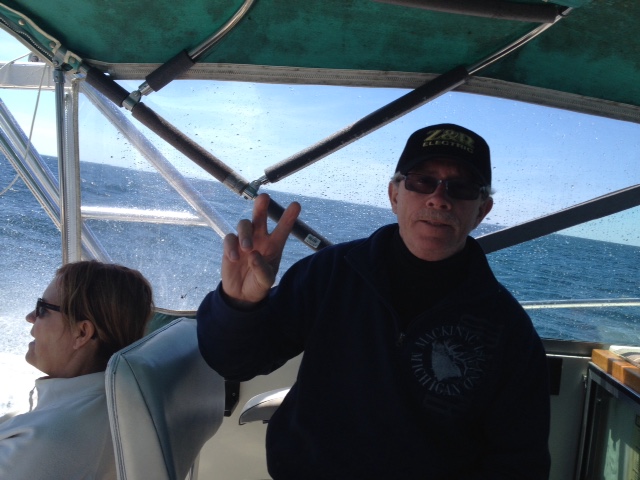 Thursday, June 9, 2016
After many days of rain, the forecast was for calm winds. I had a bunch of equipment piled up on the dock. Gene's white boat slid into view with Emil as a deck hand. All the equipment was piled on board and out on to a placid Lake Superior we went.
There was a boat fishing in one of our bobbing holes and we set up and drifted through the "hot" spot. Gene had one hit that didn't stick and that was it for that spot. With glass like seas, we moved out and drifted through another spot. There were fish here. Gene and Emil soon had a double coming up. My new contraption worked and I had one coming heading to the surface. We ended up with 10 trout in the box.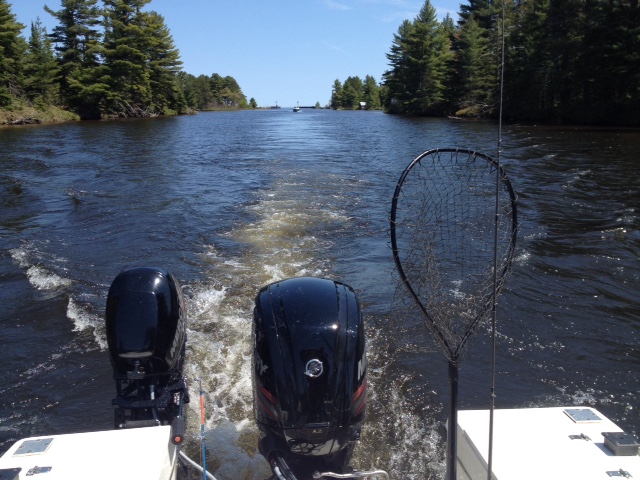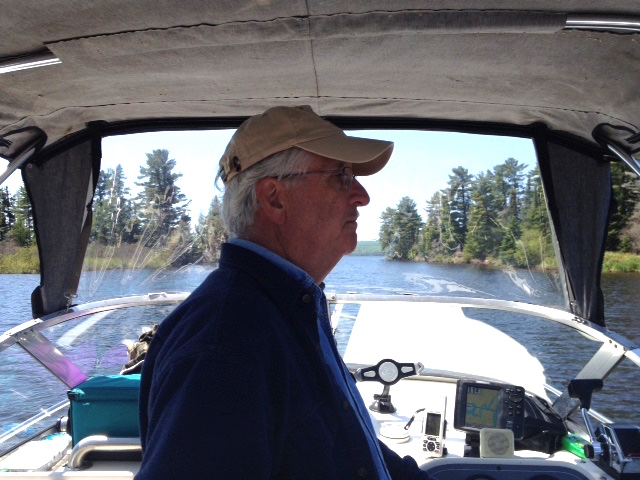 Saturday, May 28, 2016
Fog again, East wind still there. It was raining in the morning too so we had a good breakfast of pancakes with some syrup provided by Sugar Pants. (see Friday's post) Splake and trout are common in the shallows this time of year so that is where we set lines. We trolled the shore line using GPS, compas, and radar to keep track of where we were. At times we were 100 feet from shore and couldn't see it. We had one hit and it didn't stick. Out to the bobbing hole we went and ended up with two trout in the box. Then we headed in for an other social hour complete with Daves excellent Bloody Marys. A good fish camp was had by all.
Friday, May 27, 2016
Another foggy day, more East wind. We used the radar again and headed out to the same bobbing hole that held a few fish yesteray. We were able to drift through the hole and we were getting a few more hits than the day before. Either there were not many fish there or they were not hitting. Fish started to come over the side as we drifted from 200 feet to 190. The few fish that were there were on the dropoff. After a while it was decided to try a couple of other spots that produced a few years ago. (you cant catch last years fish) There were a couple of hits and a couple of fish caught but no mother load. We quit and came in for social hour. Willy showed us a video of his maple syrup operation. At the end of the video he was posing in his syrup making Carhart bibs that were covered in syrup and maple sugar. He called himself "Sugar Pants". This did not slip by the guys, he now has a new nick name. He is no longer Whitefish Willy but Sugar Pants. The fish fry of fresh lake trout on the grill was the evening meal. The seagulls ate it all up and topped it off with more beer.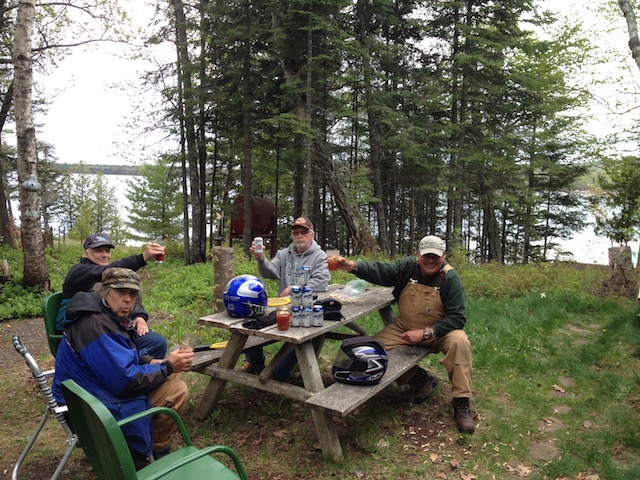 Willy (Sugar Pants), Paul, Emil, and Dave at fish camp 2016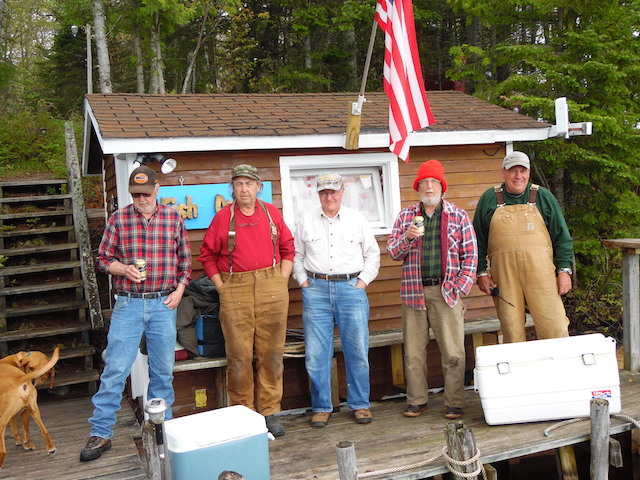 Thursday, May 26, 2016
After a good breakfast of home made bacon and some Willy/Debbie eggs the Kala Moiakka II was launched. This years crew was Willy, Dave Rittenhouse, Emil, Bruce, and Paul Mohar. Our destination was the same jigging hole that Gene and I fished on Sunday. We had a little problem, dense fog. The radar was spun up, so down the lake we went. A target apperared heading right at us as soon as we rounded the point. I took a hard turn to starboard and we watched as some guy in an 18 foot walleye boat slipped by us. He was moving way too fast in the fog and I doubt if he ever saw us. A course was layed in down towards the channel. No sooner had we started that way and another target showed up dead ahead. I moved off a little to starboard and here comes the Max B. The Max B is the commercial fishing trapnet boat. They also had their radar on and we passed safely. The channel was not too hard to find. I had the helm, Bruce had the radar, Emil and Paul were looking for trees on both sides of the boat. The fog lifted a little in the channel and the trip to the lake was easy. However, once we cleared the breakwall, the fog set in and visibility dropped to 100 feet. Another target showed up on the radar, another boat? Yup, there was another boat out trolling right in front of the breakwall. That seemed to be the last of the obstacles and we headed out to the bobbing hole.
There were two to three foot swells running from the East. A South West wind was blowing so we had to anchor. As usual the first set of the anchor didn't work out. When we settled on the anchor rope the water was only 160 feet. Out came the anchor puller and we lifted anchor and reset. This time we got close to 200 feet of water and soon Bruce had a fish heading for the surface. We fished hard but there were not many fish around. Two other spots were tried and a few scattered fish were caught. We ended the day with 8 lake trout in the box. A good shake down cruise.
Wednesday, May 25, 2016
The guys arrived around noon. The dock needed to be put out. That was the first project. We accomplished that and then it was Bloody Mary time. The rest is a little fuzzy.
Sunday May 22, 2016
Well I finally made it up to camp. I did scratch my fishing itch by catching a few blue gills near Norway. Michigan. The plan was to work on the boat and get it ready for the Memorial Day Frolic. The guys are coming up on Wednesday and the boat is not ready so I have lots of work to do. That was the plan anyway. Gene called and said "lets go fishing" and that was the end of the plan. I ran over to his place at Eagle Harbor and we put his trolling motor on his boat and got it ready to fish. It was noon by the time we launched at the Lac La Belle launch.
When we cleared the breakwall, the lake was alike a sheet of glass. Just a few leftover swells coming from the SE. I told Gene to take a heading of 110 degrees. What, no compass? Yup, it was a shakedown cruise and a few items were left behind, lunch, winter coats spare GPS, compass. We had bait and fishing rods so out we go to an old bobbing hole. We were looking for 200 feet of water but only could find 195. Since it was very calm we were able to drift untill we hit the first fish and it turned into a double. The anchor went down and of course by the time the boat settled into the anchor line we were off our spot and the fish were not bitting. We used the anchor puller and pulled anchor. Gene had not seen it work so it was a good demonstration. After a little maneuvering the anchor was lowered again. This time we hit our spot and fish started to fill our cooler. We filled our cooler with our limit of 10 trout by 3:30. Gene said, "fish don't bite in the afternoon" as we headed back with a full cooler and a sucessful shakedown cruise.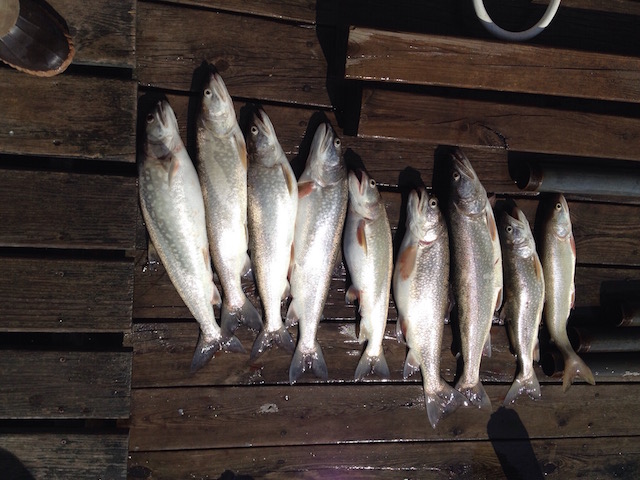 Wednesday, April, 2016
The snow finally melted so Steve and I headed out in his walleye (green slime) boat. He had just checked his boat out the day before so we were pretty sure that it would run. This was a shakedown cruise so you don't know what will go wrong on the first cruise for the year.
We met at the park and ride at 7:00 AM. My eyes usually don't open till 9 so I was functioning in low gear. Steve showed up and my rods, tackle ,and bait was loaded into his boat. I had my winter ice fishing clothing along too. It seemed funny to be wearing wool clothes and long underware with the temperature around 55 degrees but experience has taught me to dress warm when heading out onto the lake this time of year.
The lake was calm when we launched, just a slight swell on the water coming from the South West. We cleared the breakwall and headed out to a spot we found whitefish last year. The sky was overcast with low grey clouds. There were flocks of ducks rising from the water and circling the boat. They looked like ocean ducks and they would not let us get close to them. When the GPS said that we were in the right spot Steve stopped the boat and I readied the anchor while he rigged his tackle. With a clink and clank the anchor went down in 100 feet of water. I was still securing the anchor when Steve said, "fish on". It took a while for the fish to get to the surface and Steve said "right species" as a good sized whithefish came into view. We landed that one and into the live well it went, no skunk today.
I missed one not long after my line went to the bottom. We fished that spot for another hour and we only had one more fish in the box; they quit hitting. If you are not getting "bit" it is time to move so we motored into 95 feet and saw some marks on the finder. Down went the anchor and before it even settled in Steve had another fish on. We landed that one and figured that this might be a good spot. It was a good spot and for a while the fish were hitting our jigs; then it went dry. We gave it a half an hour and since we didn't have a hit we made a big move and looked over a winter fishing hole. Nothing showed up on the finder so back to our original spot. The fish were there and we pulled anchor at 3:00 with 11 whitefish in the box. A pretty good first trip for the year.